With yoga going pretty much mainstream there has recently been a huge influx of yoga gear and products to hit the market! Without buying and trying out a range of different yoga mats it can be hard to know which type of mat is going to fit your needs.
First of all, why do we even need a mat in the first place? You could try and go without a mat. It is quite nice to practice outside on the grass. You could also practice on a hard flooring surface. Obviously practising on tiled floors is going to be a really hard surface and could be quite dangerous! And any type of carpeting is going to be quite slippery!
So really you do need a mat if you want to keep up a consistent yoga practice that will allow you to practice either inside or outside, is going to provide you with cushioning, support and also a non-slip surface to help provide grip so you are not sliding out of all of your poses!
Important Things to Look Out For When Purchasing a Yoga Mat:
We can sometimes get caught up in the colour or design of a yoga mat without thinking about it's functionally and how we plan to use it!
Stability: A thinner mat might provide you with more stability as you are able to feel more grounded and a greater connection with what is under the mat. Which is better for all of those balancing poses. Mat's made from TPE (similar to PVC but non-toxic) are going to provide good 'stickiness' and stability for poses.
Thickness: All the pro mats tend to be extra thick. If you plan to do yoga several times a week you will want a thicker mat that will last and give you extra support when you move into more intermediate/advanced poses. If you are just starting out you can easily use a thinner mat and then progress into a thicker mat as time goes on. If you are older and just getting into yoga for the first time you will definitely need a thicker mat to help protect all of your joints/knees and back.
Texture: If your mat is really smooth and you do a lot of flow type yoga or hot yoga it can get a bit slippery when wet! One way to resolve this could be to also use a grippy yoga towel (a lot of them are made from microfiber) or you could look for a mat that has a bit of texture built in or that is made from a naturally textured material. If your yoga practice involves a lot of floor work (like Hatha yoga) you will probably want to look for something smoother and softer to lie on.
Portability: Can you roll your yoga mat up and store it easily? Travel yoga mats are very thin, easily folded and portable (you can easily fit them in your suitcase!). If you travel around a lot you will probably require something more lightweight.
Environmentally friendly: We don't want to be doing this great thing for our body, connecting with our body, detoxing regularly and cultivating mindfulness on a mat that could be potentially off-gassing toxic substances back into our environment!
Traditionally all of the brightly coloured low-cost yoga mats that you would have seen for sale probably have been made from PVC. Some of the really thick pro mats also contain PVC (I recently discussed PVC and it's environmental cost in this post) and possibly other heavy metals (lead, cadmium and those nasty phalates) in order for them to be so pliable so you always need to be aware of the materials used in the construction of your yoga mat! PVC yoga mats don't naturally biodegrade and they also leach nasty gases which can then get into our water supplies.
Some Natural Materials Used to Construct Yoga Mats:
JUTE:
Jute material is derived from a plant that is an incredibly sustainable resource. It is also really fast growing and also helps to clean the air in the process! Mats made from jute are also fully recyclable and biodegradable (chop it up and pop it in your compost bin! It is also really good for the soil.) Yoga mats made from Jute will have a bit of a rough, textured feel to them.
CORK:
Cork is derived from the bark of the cork oak tree. The extraction of the cork does not hurt the tree and it is fully renewable (every nine years or so there is more cork ready for removal!). Cork yoga mats will be very smooth, have a good grip factor, be incredibly durable and also will not off-gas anything into the environment.
NATURAL RUBBER:
Natural rubber is harvested from the rubber tree that grows in central and South America. It is easily harvested and fully sustainable. Natural rubber yoga mats are very dense, comfortable, and eco-friendly. As they are biodegradable they will start to break down over time so they may not last as long as the PVC type mats and they will also have a strong 'natural rubber' smell for the first month or so of use! If you are allergic to latex you will need to look for an alternative to natural rubber. Natural rubber mats probably weigh the most but you can buy them in different thicknesses.
TPE:
TPE stands for thermoplastic elastomers (a mix of plastic and rubber). TPE is not a natural product but there are many mats now that use TPE instead of PVC. TPE also makes for a good alternative to PVC as it is considered non-toxic or low-toxic. Many TPE mats are also very cost effective if you don't want to shell out for a more environmentally friendly, natural product. TPE is also very easy to clean, anti-microbial, lightweight, and it has some recyclable and biodegradable properties.
Always be sure to store your yoga mat in a cool, dry place!
10 Beautiful Non-Toxic Yoga Mat Finds!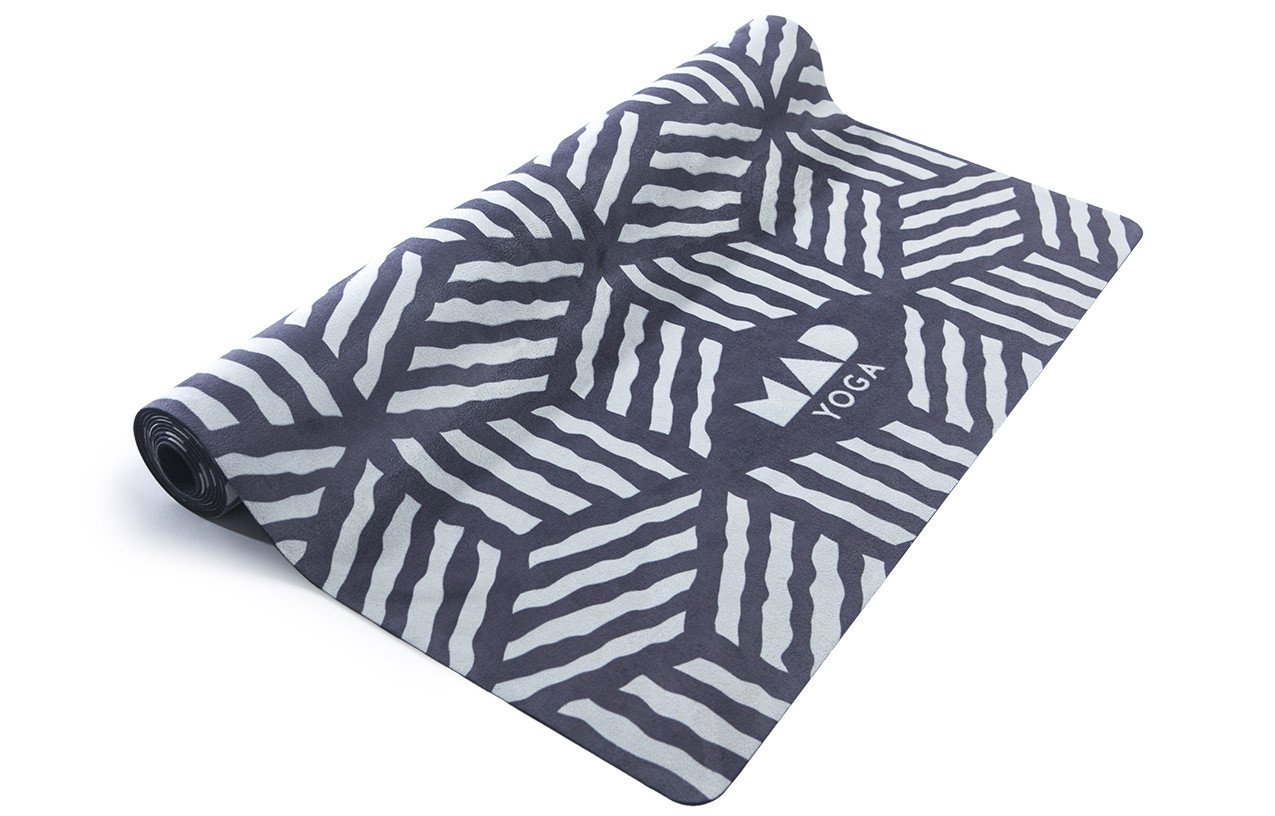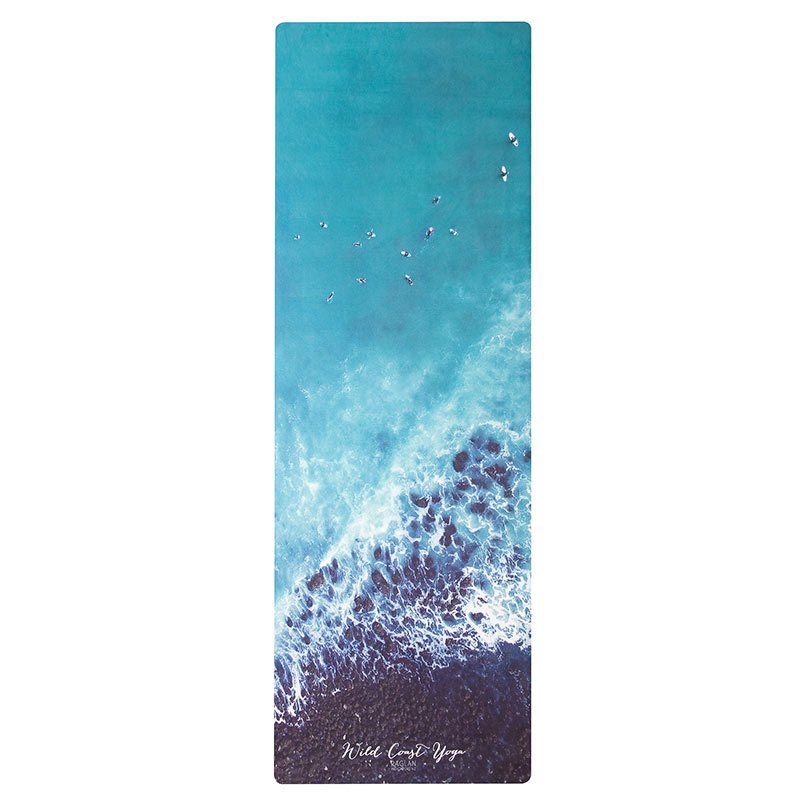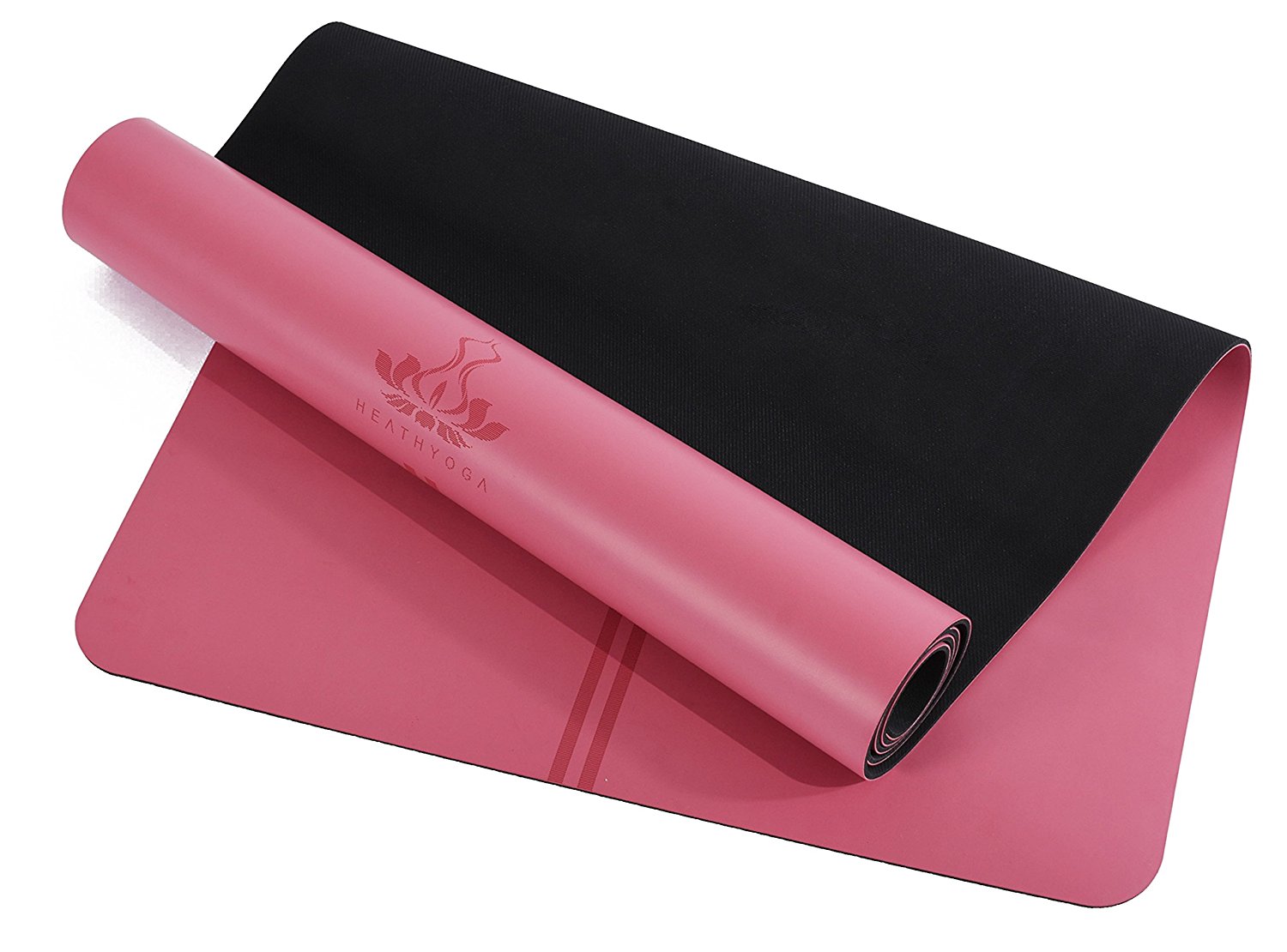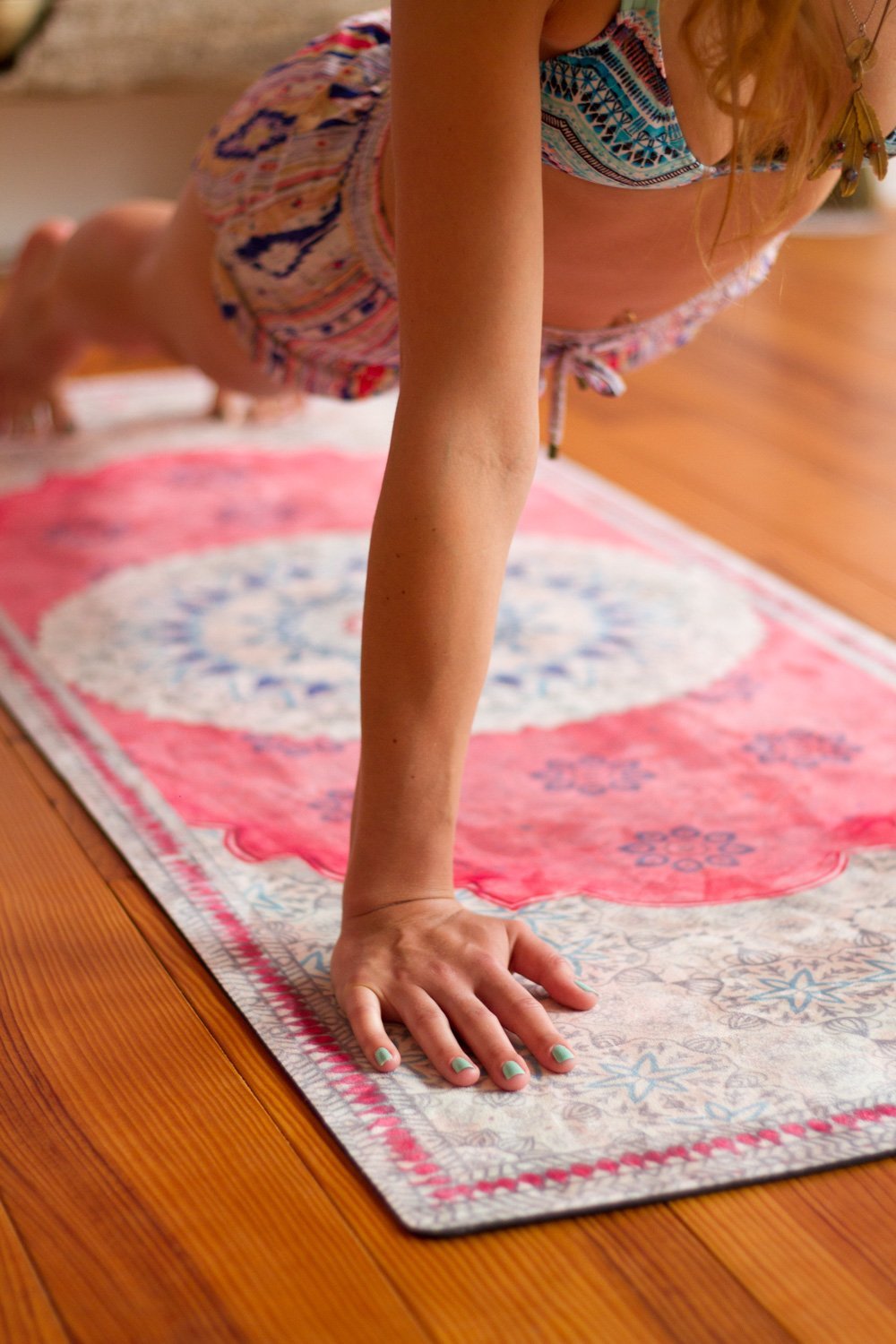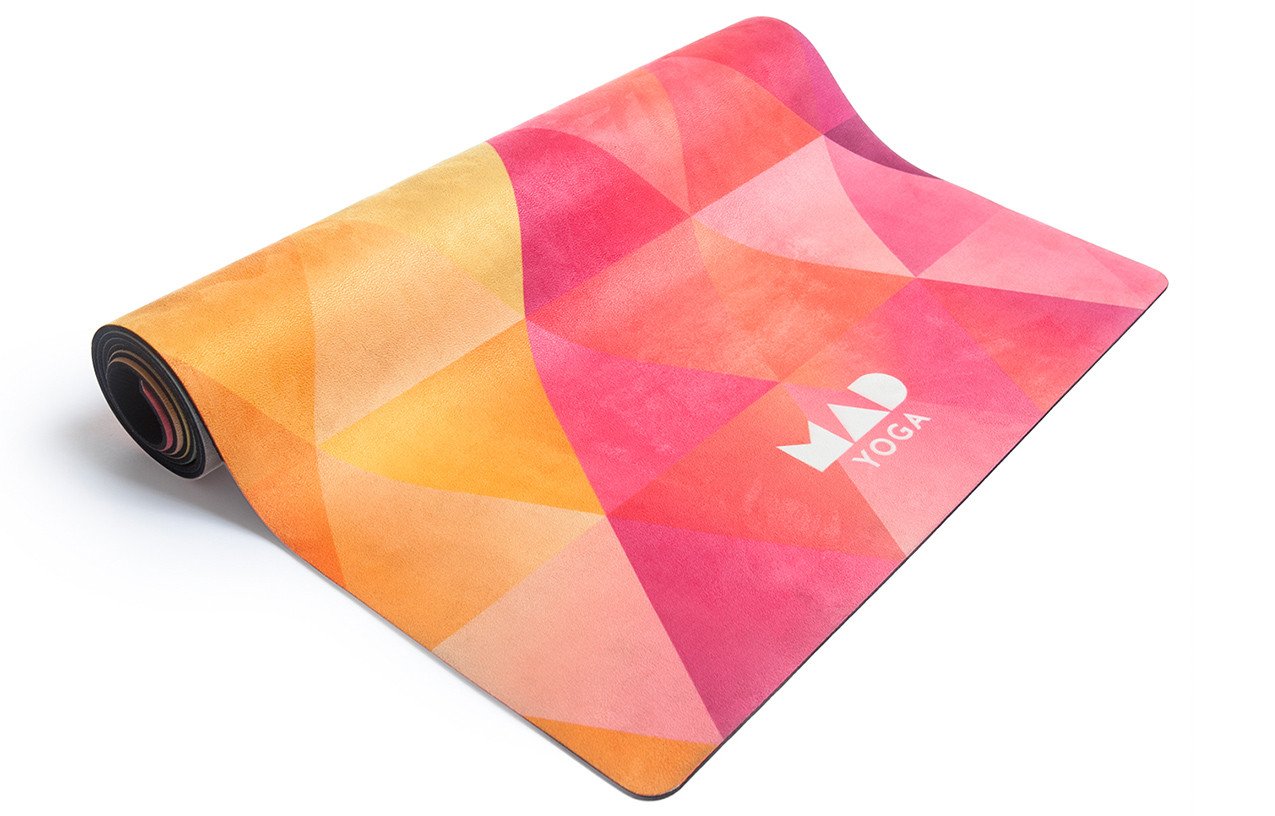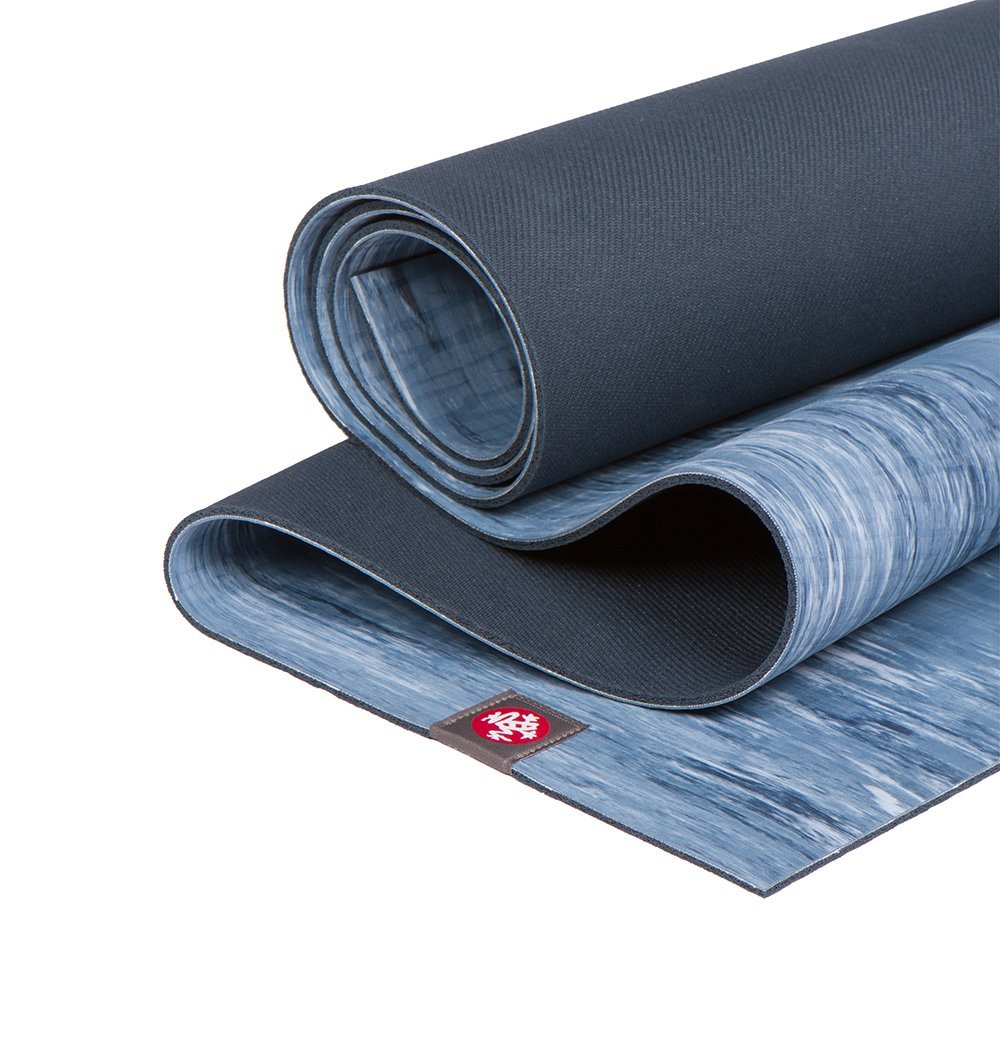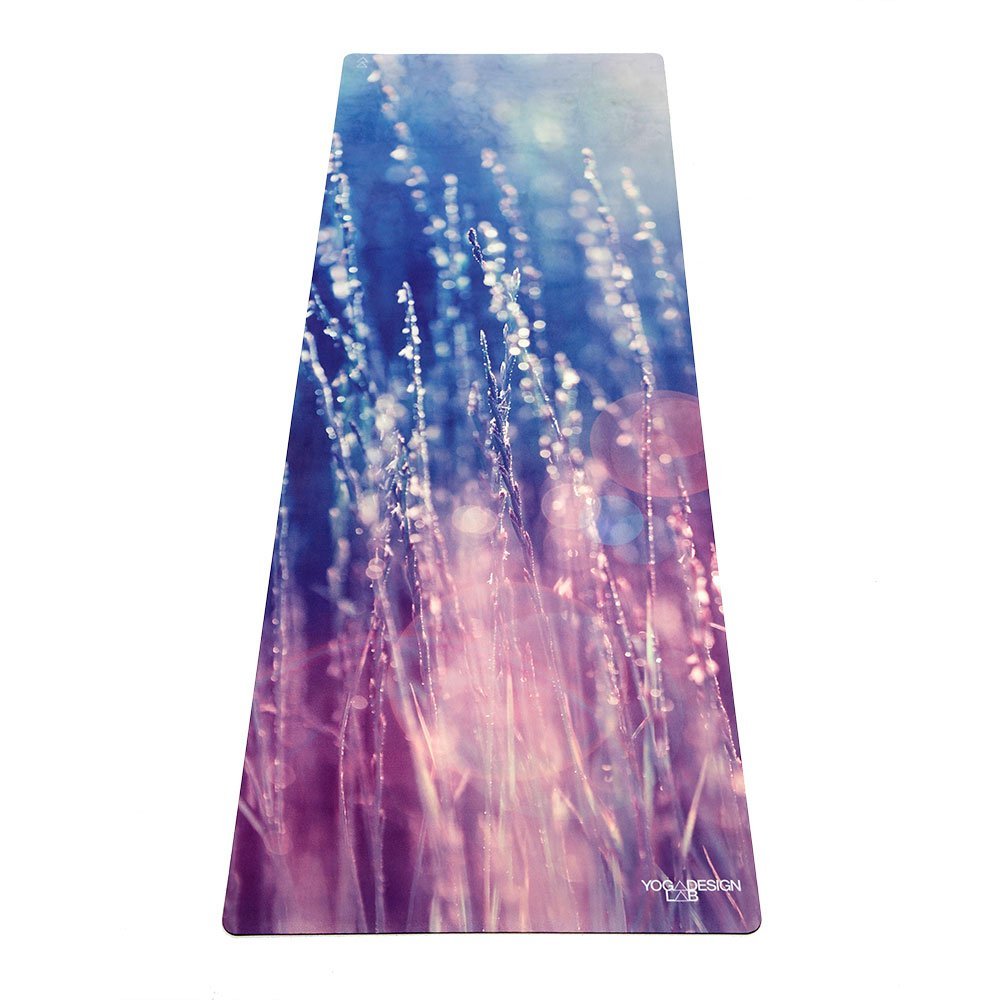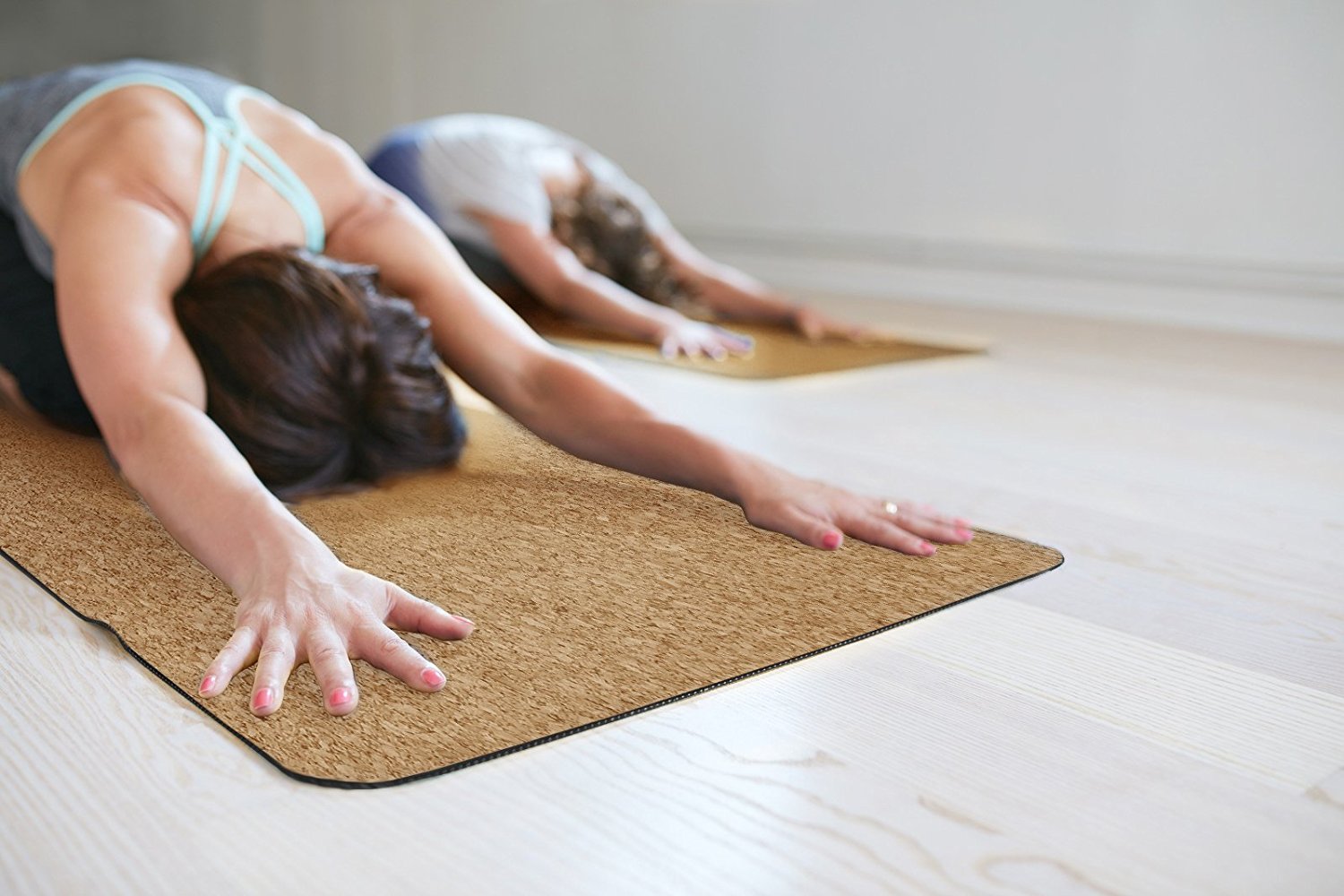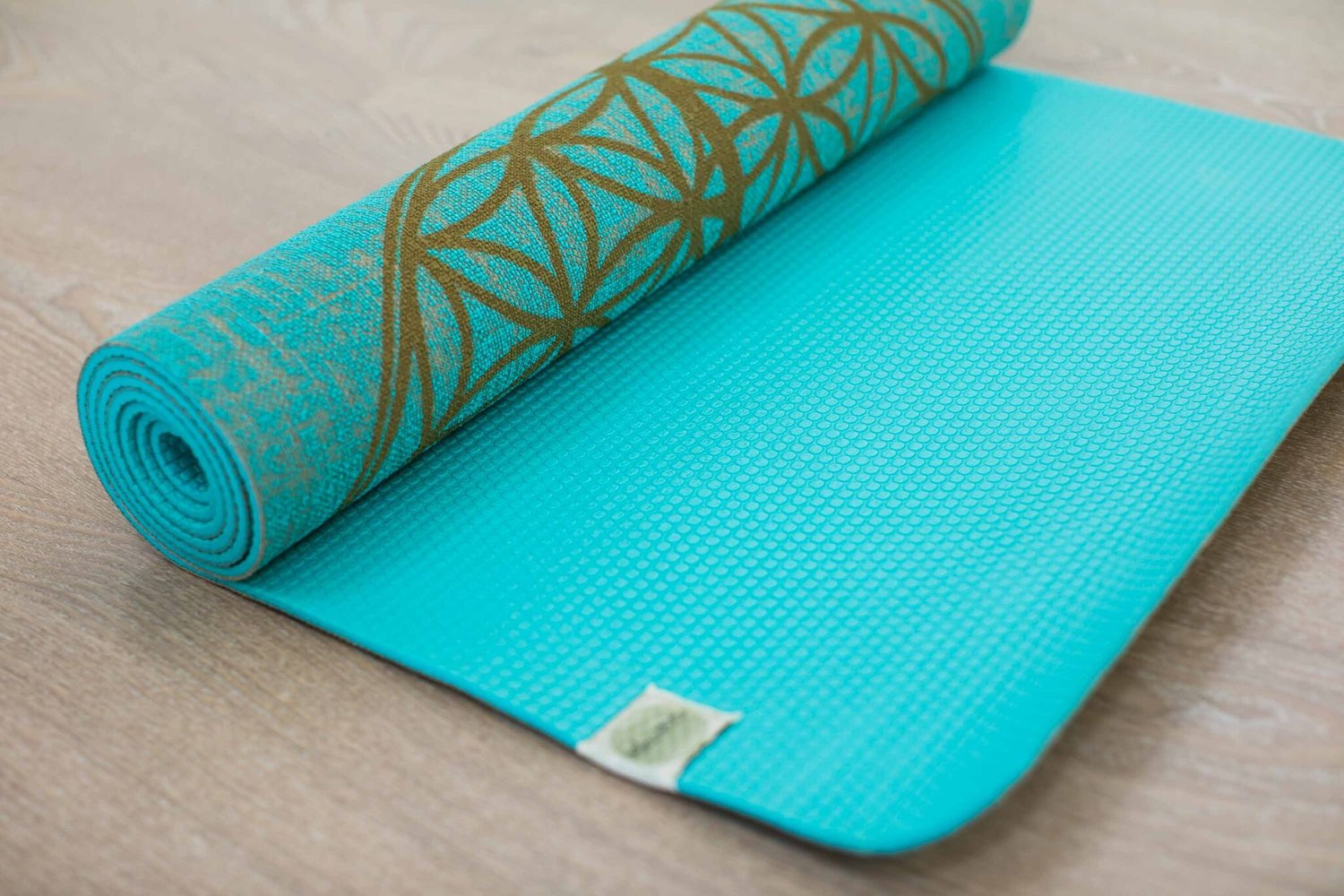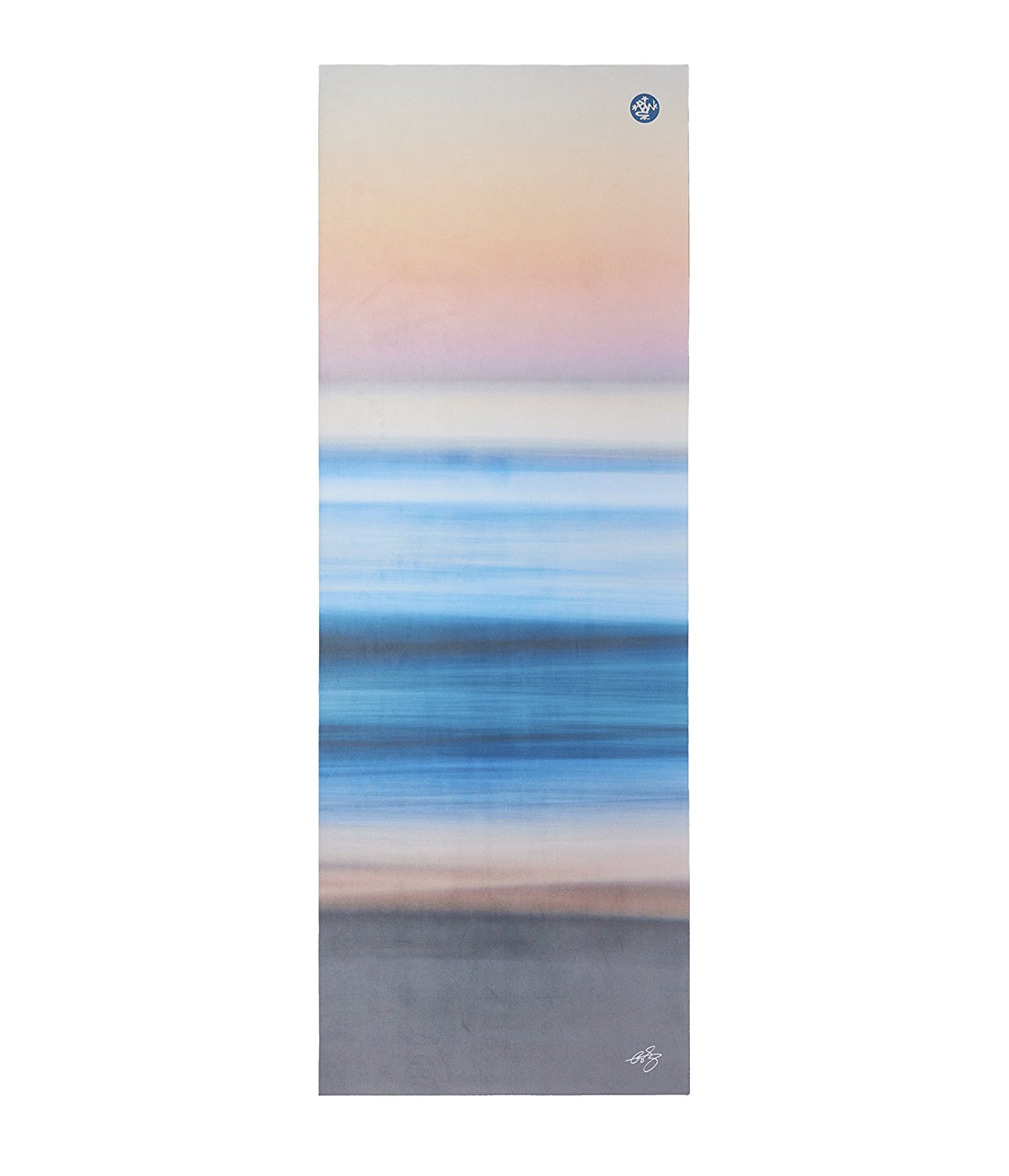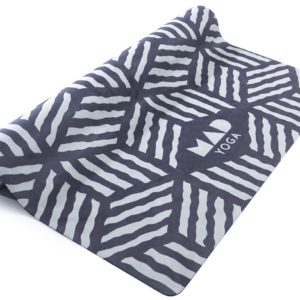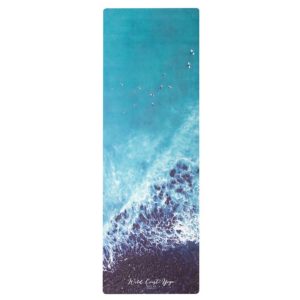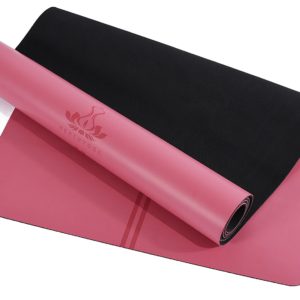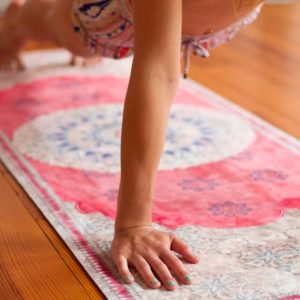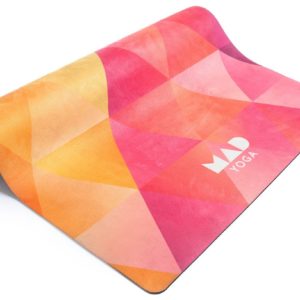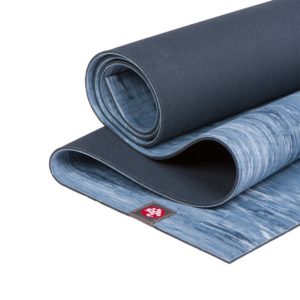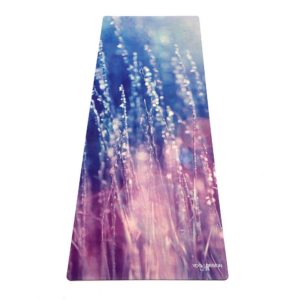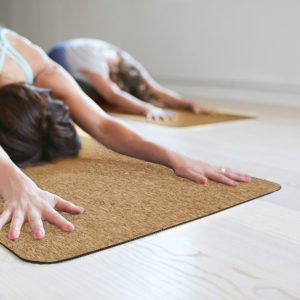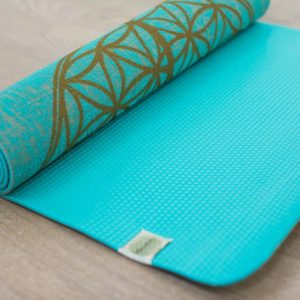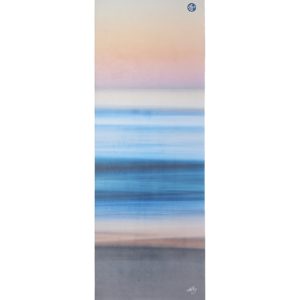 .
1. MAD YOGA 'TRIPPY HIPPY' TRAVEL MAT:
This funky tribal print mat is from 'Mad Yoga' which is a New Zealand brand. It is a travel yoga mat which means that it is super lightweight, is thinner than their other mats, and can also be folded and stashed in a suitcase! The yoga mat features a microfibre towel upper bonded to a natural tree rubber base. The beautiful print is made with non-toxic, water-based inks. The mat is free of latex, silicone, toxic glue and phalates. Best of all it is very easy to take care of being fully machine washable! The mat also comes with a handy carrying strap. (Mad Yoga)
2. WILD COAST YOGA 'INDICATORS' MAT:
This beautiful yoga mat from 'Wild Coast Yoga' has a similar construction to the 'Mad Yoga' travel mat with a natural tree rubber base and a luxurious microfibre towelling upper. However, it is thicker. This mat is perfect for any type of yoga (particularly hot yoga!), and also pilates. The mat is printed with an ariel photo of indicators point in Raglan, New Zealand which is supposed to be the longest, faster wave for surfing on! It also comes with a stretchy carrying strap. (Wild Coast Yoga)
3. HEATH YOGA MAT:
The 'Heath Yoga' Pro mat is made from organic tree rubber and is designed to be non-slip and better for your skin. This mat is also customised with built-in alignment lines which is great if you are new to yoga! The mat is also designed to be slightly longer and wider (183 x 66cm) with a 4.2mm thickness. It is also non-toxic and fully recyclable. 'Heath Yoga' also has a great 'green earth' program that ensures a tree planted with each purchase! The mat also comes with a one year warranty and a carry bag for your mat. (Amazon)
4. MALA YOGA MAT:
This natural 'flying carpet' yoga mat is from 'Mala' and is designed with a natural rubber base and a printed microfibre towelling upper (great for sweat absorption for all of those sweaty workouts!). The symmetrical pattern helps to keep focus and alignment in difficult poses! The printed upper is designed with non-toxic, water-based inks. This mat is also fully machine washable (set it to cold and delicate cycle) and it is also extra long (183 x 61cm) with a 3.5mm thickness. Comes with a carrying strap and a handy spray water bottle (tip: regularly spray water on your mat during your practice for maximum grip!). (Amazon)
5. MAD YOGA 'SALUTE TO THE SUN' MAT:
This vibrant geometric printed mat is also from 'Mad Yoga' but is the non-travel version so it is a lot thicker at 3mm thick. The overall mat measures at 178 x 61cm. The mat is designed with a handy microfibre towelling upper on a natural tree rubber base and it is free from any nasties. The brand also sells some other beautiful prints perfect for any style of yoga. The mat also comes with a carry strap. (Mad Yoga)
6. MANDUKA EKO LIGHT MAT:
'Manduka' is the brand that yoga teacher's often go-to for high-quality yoga gear and mats. This is the 'eKO light' mat which is suitable for yoga and pilates. It is made from natural tree rubber which is biodegradable and non-Amazon harvested (rather important!). The mat is also 99% latex free and can be used by people with latex sensitivities. It is also designed with a three layer technology and a beautiful rippled top which helps with overall grip, durability and provides a non-slip surface. The 'eKO light' yoga mat is also zero waste and is fully biodegradable! The mat measures at 173 x 61cm and are 4mm thick. Manduka also has a thicker natural rubber version which is 5mm thick which might be great if you need a tad more support and cushioning! (Amazon)
7. YOGA DESIGN LAB MAT:
The 'Yoga Design Lab' mats are similar to the 'Mad Yoga' mats and come in a range of gorgeous, bright prints. This is a combo mat with a rubber based and a micro fibre towelling upper. Again this is perfect for absorbing sweat during hot yoga and power yoga practices! The microfibre used in the 'Yoga Design Lab' mats are actually made from recycled bottles! The mat is machine washable and is printed with bright non-toxic inks that are guaranteed not to fade. $1 from every yoga mat purchase goes towards helping in-need youth get exposure to yoga programmes. The mat measures 180 x 70cm is 3.5mm thick and comes with a carrying strap. (Amazon)
8. WODFITTERS CORK YOGA MAT:
This yoga mat from 'Wodfitters' is made with a combination of cork and natural rubber. It is 100% derived from plants and is free from nasty chemicals! Cork is naturally antimicrobial and will not require constant washing – simply gently wipe and then lay it in the sun to dry. Cork also has superior gripping abilities compared to other mats made from different materials and will also be perfect during sweaty hot yoga sessions. This cork yoga mat measures 183 x 61cm and is 4mm thick. Apparently harvesting the cork bark from the cork oak tree helps the tree to absorb more carbon dioxide so it's a win-win for the environment! (Amazon)
9. YOGA TRIBE JUTE MAT:
This natural organic jute mat is from the New Zealand brand 'Yoga Tribe'. This mat is aqua with a beautiful gold Mandala print. The mat measures 183 x 61cm and is extra thick at 5mm thickness! Natural jute mats have an incredible grip and durability not seen in other mats. It is not recommended to machine wash a jute mat you can, however, wipe or sponge clean and then pop it in the sun much like the cork. 'Yoga Tribe' also carry a wide range of other beautiful Jute yoga mat designs. (Yoga Tribe)
10. MANDUKA PRINTED MAT:
'Manduka' commissioned three limited edition yoga mat prints from well-known artists. This beautiful, beachy mat design is by Brent Boza it is similar to the 'Mad Yoga' and 'Yoga Design Lab' mats in that it is a towelling upper with a natural rubber base. It measures 172 x 61cm and is 4mm thick. The top layer is super durable with non-toxic dyes used in the print. Fully machine washable! Natural rubber mats do have a distinct smell that will wear off as time goes on. Make sure you air your mat out when you first purchase it! (Amazon)
(Photo by Caster Cheung on Unsplash)
---